Buy Oriental Rugs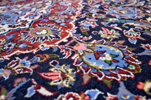 Buy Oriental Rugs
Buy an Oriental or Persian Rug – A Rug for the Ages
The right Persian or Oriental rug can add a touch of "floor art" to any room in your home. But before you buy Oriental rugs; be sure you understand what you are buying. Oriental rugs have become a generic label for any variety of patterned carpeting. This is a common misconception and should not be confused with an authentic Persian or Oriental rug. So, before you buy a Persian rug or Oriental rug it's best to understand what makes one rug different from the next.
Buy Oriental Rugs – What to Look For
Before you buy Oriental or Persian rugs it's best to understand what an authentic Oriental rug is.
Oriental rugs are made of piled or flatwoven fabrics that are hand-knotted
Authentic Persian and Oriental rugs originate in:
Afghanistan
China
India
Iran
Nepal and Tibet
Pakistan
The Caucasus
Turkmenistan and Uzbekistan
Turkey
Oriental and Persian rugs are usually made of wool or silk
The quality of an Oriental or Persian rug can be determined by the number of knots per inch
The more knots per inch the better the quality
Caring for Oriental Rugs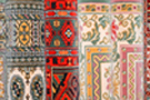 Once you buy Oriental rugs it's important to care for them properly so they can be passed down from generation to generation. Usually you buy Oriental rugs for their color and detail. To keep them looking their best a complete cleaning is recommended every three to six years. In addition, good quality padding will help protect your Oriental rug. When vacuuming, be sure to go with the nap of the rug, never against it, to prevent dirt from getting back into the carpet. In addition if the Oriental rugs you buy have fringe, be sure to turn them under before vacuuming to avoid damage.
Buying Oriental rugs from a trusted dealer like PowerSellerUSA is always a good idea. Rug specialists know what an authentic Oriental or Persian rug is and clearly state whether a rug is Oriental style or a true Oriental rug. When you buy Oriental rugs from PowerSellerUSA you can be assured you are getting a rug of quality and tradition that will last for generations to come.
If you need assistance in buying Oriental Rugs, or have any questions about your Oriental or Persian rugs, please feel free to contact us. Our rug and design specialists will be happy to answer all of your questions.
Buy Rugs Online
Buy Area Rugs
Rug Stain Removal
Area Rugs Decorating Tips