Home
»
Area Rugs - Decorating Tips
Area Rugs - Decorating Tips
Area Rugs - Decorating Tips
Area Rugs - Decorating Tips for a Great New Look
Decorating with area rugs is easy when you have the right area rugs and decorating tips. Area rugs, when chosen correctly, add just the right touch in finishing any room in your home. Follow the area rug decorating tips we've compiled to add a bit of pizzazz and style to your décor.
Area Rug Decorating Tips – Selecting Your Style
There are a number of styles you can choose from when selecting an area rug. Perhaps the most important area rug decorating tip we can provide is: Understand your style. Does your room have a lot of dark woods and antiques? If so the style is more "old world" than contemporary. Adding a wild geometric to a subdued room may clash with the style you are trying to create. Use the following area rug decorating tips to determine the style of the room.
traditional – Persian rugs or Oriental rugs work well with very stately, traditional furnishings. Bold patterns, wild geometrics and bright colors may conflict with a more stately, traditional room.
contemporary – Bold, patterned rugs enhance modern furnishings, Through the use of bright colors and unusual patterns, contemporary furnishings come to life.
Choosing Area Rug Materials
There are a wide range of materials used for making rugs. Determine how much foot traffic the area rug will be enduring. If it is a high traffic area, darker colors or patterns tend to mask dirt. Choosing a low pile will probably be better because it doesn't show foot imprints like a deep pile or shag might.
Size Matters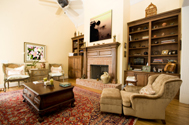 Be sure that you choose an area rug that fits the space. Very large spaces often look better with two smaller area rugs rather than one large one. Be sure to reviewWhat to look for when buying an area rugfor important area rug measurement information.
Area Rugs, Decorating Tips and The Basics
In order to determine what kind of area rug you should choose, first you need to decide the main purpose for your rug. Area rugs have three major uses:
As accessories
As a focal point
For practical reasons
Once you have established the reason for an area rug, you can determine the look and feel you are trying to achieve and choose the fibers of your area rug depending upon foot traffic, rug location and the like. PowerSellerUSA has a huge selection of quality area rugs for you to choose from to make every room in your home a vision of beauty and comfort.
If you need area rug decorating tips, or have any questions about the area rugs PowerSellerUSA offers, please feel free to contact us. Our rug and design specialists will be happy to answer all of your questions.
Buy Rugs Online
Rug Stain Removal
Buy Oriental Rugs
Buy Area Rugs